My Favorite Live CD: Kanotix Lite (aka: my little slice of heaven)
Monday, October 30, 2006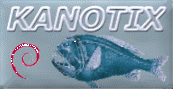 It just works. That's why. Whenever I have had hardware problems, or any computer related problems, and my OS wouldn't boot, Kanotix would be there for the rescue. It just always works. All my hard ware is detected 100% of the time, I have never had Kanotix
not
boot up for me. That is why I like it so much. I don't
need
a much of fancy disk saving utilities and admin stuff, as long as you can get me to a working terminal... that is all I need. But, Kanotix has it all, so if you need it... Kanotix will have it. I can already list 3 time where Kanotix Lite has come to my rescue. All three were after hardware changes, where other Linux distros just wouldn't install, and most Live CDs wouldn't even boot. But Kanotix Lite shone through.
Well, that is just my two cents worth. So, if you need a good Live CD anytime, go with Kanotix Lite (or the full Kanotix version). Check out the website
here
. Here's a little more info about Kanotix:
Kanotix is a rock-solid Linux based on Debian-Sid, which contains the newest packages and recognizes more modern hardware than any other operating system in use today.

Kanotix is assembled for 32 Bit i586 and for AMD 64 using the most up-to-date kernel with unique patches.

Kanotix will run as a LIVE-CD on practically any computer -- automatically detecting and configuring virtually any piece of hardware. It is ideal for analysis, data rescue, forensic work, removal of viruses on Win-PCs - or simply for safe surfing and mailing in an internet cafe. It installs to your hard drive in just a few minutes and is ideal for use on your desktop workstation or notebook, or as a server.


1 Comments:
---