Find Linux-related Jobs!
Friday, January 12, 2007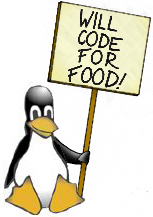 I just stumbled upon this page. Although it doesn't really apply to me (I don't think a 14 year old will be hired!), it is quite interesting to see how the Linux job market is developing. From the looks of it, if you are a Linux expert... you're likely to get a nice pay check. $100-120K! But, it's really not about the money. If you're interested, head on over to
HotLinuxJobs
. Or, skip right to the
job listings
.
From the homepage:
"Search firm specializing in the placement of Linux / Open Source professionals, providing both contract and direct hire services to our clients. Our knowledge of the Linux / Open Source landscape and employment marketplace make us your most efficient recruiting resource. If you are looking for exciting opportunities and want to work for leading companies adopting Open Source technologies, please contact us and send us a copy of your resume."

0 Comments: