Australia's "Solar Tower" that can power a small city.
Thursday, August 03, 2006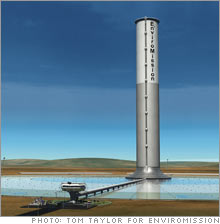 Construction will start in a year on what will be a 1600-foot tall "Solar Tower" on the Tapio Station ranch. "Picture a 260-foot-diameter cylinder taller than the Sears Tower encircled by a two-mile-diameter transparent canopy at ground level. About 8 feet tall at the perimeter, where Davey has his feet planted, the solar collector will gradually slope up to a height of 50 to 60 feet at the tower's base." The tower is made to generate energy by acting as a greenhouse, warming the air around it and then sucking it in (like a giant vacuum). The air will generate wind which will power turbine generators around the structure. Great thinking Australia! An even larger model, similar to this one, is being built in China. Let's hope to see more of this kind of thing!
Read full story
here.

0 Comments: