KNOPPIX 5.01 Released!
Friday, June 02, 2006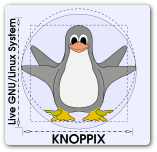 KNOPPIX 5.01 has been released! The most popular Live Linux CD/ DVD of all time is now available with the following upgrades:
*
Linux Kernel 2.6.17 (rc)
*
Debian (testing/unstable)
*
Xorg Version 7.0
*
Detection of onboard IDE-Raid Controllers and raid disk components
*
udev+hwsetup for automatic hardware detection
*
KDE 3.5.2, GNOME 2.12 from Debian/unstable
*
OpenOffice 2.0.2 (german+english)
*
transparent write access for NTFS partitions (libntfs+fuse)
*
new
knoppix-installer
now also with the possibility to update existing installations of Knoppix
Read full release statement on the KNOPPIX
homepage
, or on
knopper.net
. Enjoy the new version of the world's most popular Linux LiveCD/ DVD!

0 Comments: